Member highlight: CCC Foundation
Sri Lanka is currently facing one of the worst economic crises in its history and the need for crisis support has never been greater.
That is why we are proud to share the work of Lifeline International member, Courage Compassion Commitment (CCC) Foundation that delivers the CCCLine in Sri Lanka. CCCLine is a free Telephone Counselling service in Sri Lanka that provides emotional support and guidance for people facing difficulties or simply wants to talk to someone about their problems. By dialling CCCLine's 1333 number, callers will speak to trained telephone counsellors who are willing to listen and assist.
The CCC Foundation was established in 2003 and founded on a vision of "building bridges of hope" to help link people and organisations to provide long-term and ongoing benefits to communities.
Shortly after its founding, the Foundation established the CCCLine (1333) to provide crisis support for the Sri Lankan community.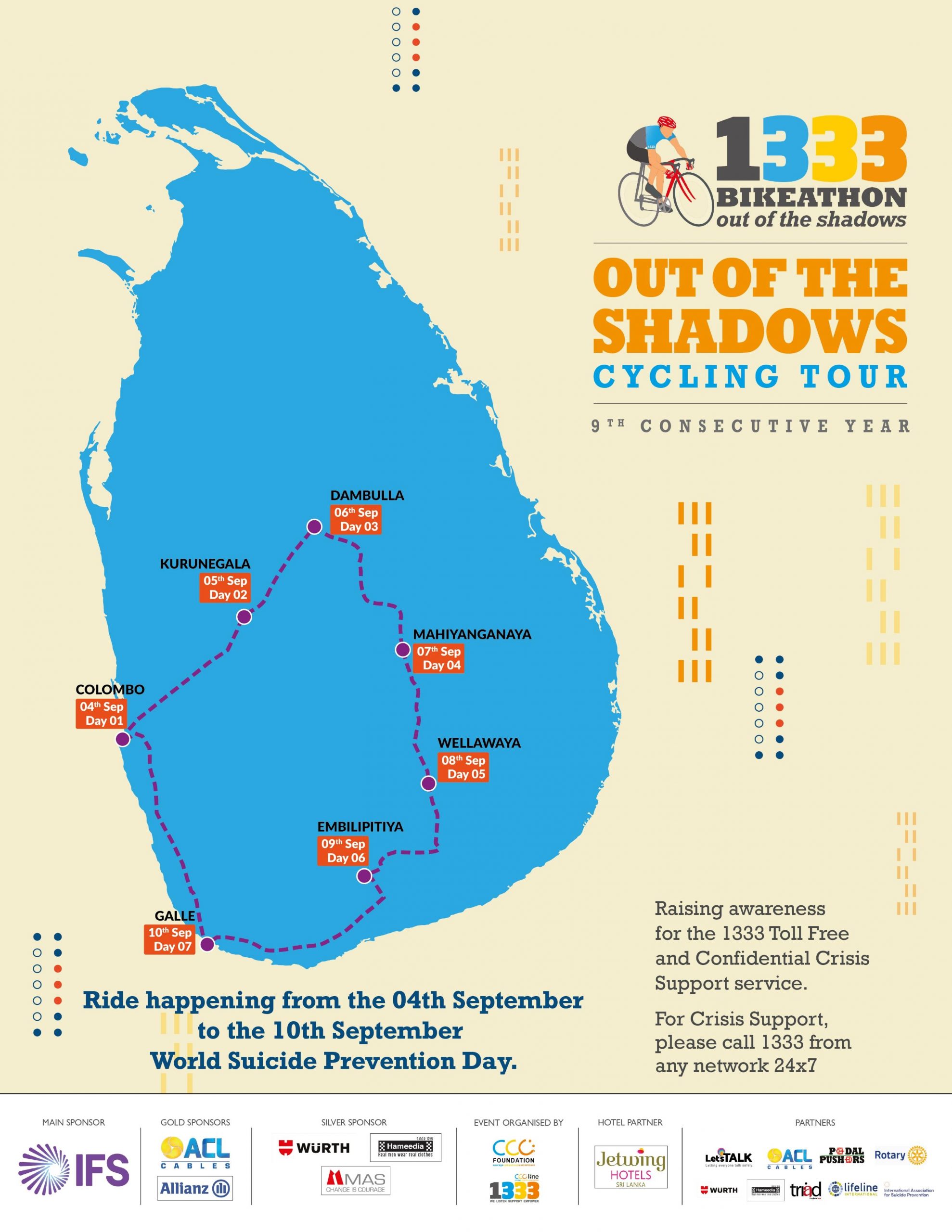 This month, they will hold their annual 1333 Bikeathon across Sri Lanka to raise funds for this vital crisis helpline.
President and Founder Jetha Devapura said the 1333 Bikeathon helps to accomplish three things.
"One is awareness so that the people of Sri Lanka understand what 1333 is; the second is to break the stigma about mental health, and the third is to raise funds," Jetha said.
"We get one shot every year to make enough money to keep the line going."
"In May we had 3,200 counselling sessions, and I've been told that our crisis support centre receives anything from 2000 to 3000 calls a month," Jetha said.
The 1333 Bikeathon is the main fundraiser for the CCC Foundation and dictates funding throughout the year for the CCCLine crisis centre.
"The first ride we did I looked up any road possible that could take us around Sri Lanka. It was 1333 kilometres long and it just happened to be the CCC line phone number. I thought it just had to be," said Jetha.
This year's ride looks a little different, travelling around 700 kilometres instead of the usual 1333.
"We were going to be going around the country for over 13 days but because of the fuel shortage we decided to do a shorter ride," said Jetha.
The CCC Foundation is inviting support from individuals, businesses and, a great opportunity to support the important work of the CCCLine.
To learn more about CCC Foundation and the 1333 Bikeathon, you can visit their website.
To access support in country, you can call CCCLine on 1333 or get help via their Facebook or Instagram.