A world where suicide is not a crime: what would that look like?
There are some 40 countries where suicide is a crime. Dr Alan Woodward, Policy Director at LifeLine International, explains how universal decriminalisation would lower suicide rates and foster a more compassionate world.  

Suicide is a leading global cause of death. With more than 700,000 deaths in 2019, according to the World Health Organisation (WHO), suicide surpasses malaria, HIV/AIDS, breast cancer, war, and homicide in claiming lives worldwide. For every person who dies by suicide, it is estimated that 20 more have made attempts. It is crucial to address this issue with effective suicide prevention measures, including counselling and mental health services. 
Despite the pressing need for support for people at risk, there are some 40 countries where suicide is still a criminal act. In these countries, those grappling with suicidal thoughts might face fines or imprisonment for attempting suicide, or even encounter threats of punishment if they disclose suicidal ideation. Loved ones left behind after suicide may be met with challenges accessing insurance or support. 
Amid global uncertainty, the number of people facing mental health struggles is on the rise. Against this backdrop, Dr Alan Woodward, Policy Director at LifeLine International, emphasises the importance of shifting away from viewing suicide as a crime. Instead, he says fostering an open, compassionate approach to suicide prevention would be far more effective in supporting people searching for a reason to carry on.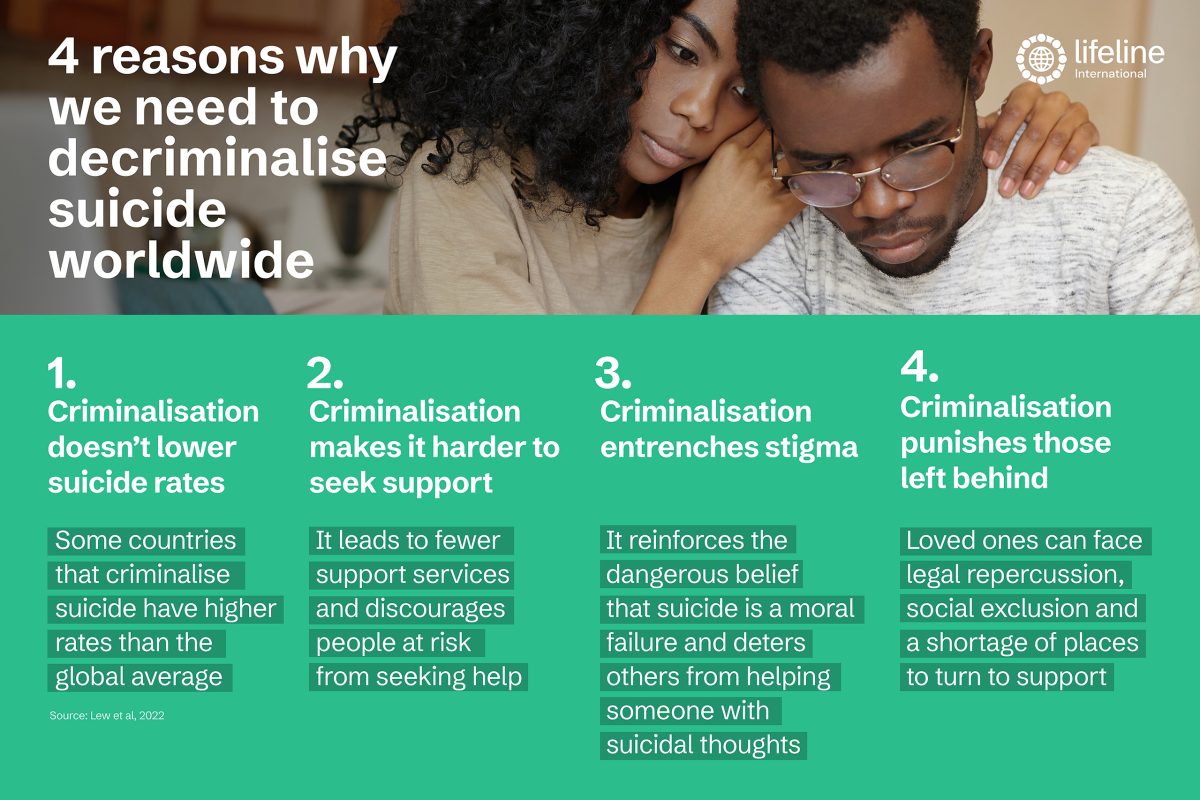 Criminalisation and its effects
Criminalisation of suicide is a remnant of an archaic belief: that suicide is a premeditated act intended to cause harm. But as Dr Woodward explains, the very premise of these laws fails to grasp the true nature of suicide.
"The person who is suicidal really does not have the intent to die. The person who is feeling suicidal has a strong sense of being trapped, without any other option. And yet, they may be ambivalent about death. They may, in fact, wish to live, but cannot see a way to live without the pain that they're experiencing," Dr Woodward said. "So, this notion of suicide being related to intent – a person having premeditated action, rationally thought through, and exercising choice – is just not applicable in the case of suicide. It's not the way suicide occurs." 
More harmful than this essential misunderstanding is the impact that criminalisation has on people. While data on the subject is scarce, Woodward explains that there are two inevitable social effects of criminalisation that work against effective prevention: shame and isolation.
"If there is a law in your country that might punish you for even a disclosure that you are feeling suicidal, let alone that you might take action to end your life, then you are going to be very reluctant to seek support or help from others," Dr Woodward said. "Furthermore, where those laws exist, that reinforces to other people that they should not get involved."
A world where suicide isn't a crime
As more countries recognise that laws against suicide do not work, the move to decriminalise suicide is growing. In the last few years, five countries have changed their laws: India, Singapore, Pakistan, Malaysia and Ghana. If the remaining countries were to decriminalise suicide, what impact would that have?
For a living example, we can look to The Republic of Ireland.
Ireland was one of the last Western nations to decriminalise suicide, in 1993. The move had a powerful ripple effect.
Suicides shifted from a legal concern, handled by the Justice Department, to an issue for the Health Department. As Dr Woodward said, "That might not sound like much more than a bureaucratic shuffle, but it was a game changer." Now viewed as a health challenge, suicide prevention called on health providers and social services – rather than the police.
Decriminalisation also shifted momentum towards prevention, instead of prosecution. The Irish Association of Suicidology was formed in 2000, and brought together experts, those with lived experience and community advocates. With a formalised community and without the silencing power of stigma, data collection improved. People were more forthcoming about attempts or suicides they knew of, building a more accurate picture of key factors: who was at risk, what led to it, and what methods were used. As a result, restrictions to lethal means were implemented, like tighter controls on dangerous pharmaceuticals. 
But as Dr Woodward highlights, most important was open support for survivors of suicide – those who attempted, and the families and friends of people who had lost their lives to suicide. "A world where the stigma and discrimination against families and loved ones affected by suicide is replaced with care and support as they go into their period of grief and loss."
"That's a terribly important part of the world where suicide is not a crime," explains Dr Woodward. "With every death by suicide, we estimate that there are more than 100 people impacted detrimentally, and maybe 30 or 40 of those impacted the point that their own wellbeing and ability to function is threatened. So, we must create a community where people who are impacted by suicide are able to receive support, services and compassionate understanding."